As promised here are the photos from the second day of my vacation in Whistler, BC.  I took to the slopes at Blackcomb mountain (Whistler wasn't open yet, too early in the season) and there was a temperature inversion that day.  What that means is that it was actually getting warmer as altitude increased rather than the other way around.  While the weather in town was foggy and temperatures were hovering near freezing, once up the slopes of the mountain the temperature had risen over 20 degrees fahrenheit to the mid-50's with sunny skies.  The pictures you'll see show the town of Whistler way below covered in a powdery blanket of fog.  It was a great day to be a skier, that's for sure.  The first photos are of that evening's sunset.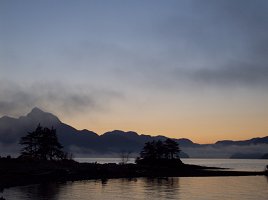 Click the photo to proceed to the gallery.
Tomorrow I'll post the photos from the third day at Mount Baker.