These are photos from an overnight canoe/camping trip down the Wisconsin River starting from Muscoda, WI.  It was a fall colors tour, and it was a late summer so the colors were not into the reds as much as we'd hoped, but there were still many brilliant yellows, golds and oranges contrasting with some late greens.  The weather was still summer-warm, sunny and in the mid-70's – remarkable for central Wisconsin in early October. 
After getting a late start on Saturday afternoon we paddled hard to beat the sunset, as we needed to set up camp and get a fire and dinner started before it got dark. 10 miles down the river we found a large sandbar with a beautiful view and stopped there for the night around 5pm. Overnight weather was another story entirely. Temperatures dropped close to freezing and none of us was really as well prepared as we could have been, but it was bearable. I would've been fine if I'd remembered some thicker socks and maybe some warm gloves.
The large temperature differential caused the warm water to create a dense fog over the river on Sunday morning. It was really dramatic as it gradually burned off and revealed the brilliant autumn colors of the trees all around us glowing richly in the sun's golden rays.
After breakfast we broke camp and got back on the water for the remaining six miles at 10am. But with the whole day left and a fast-moving current on most of the river, nobody was really in much of a hurry. We joined six of the eight canoes together into one big floating barge, and soaked up some rays as the current carried us along slowly to our destination.
Click the image below to go to the gallery.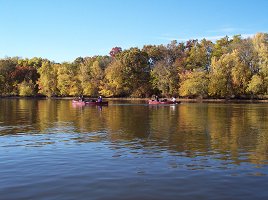 ¼/p>